Meet Our Team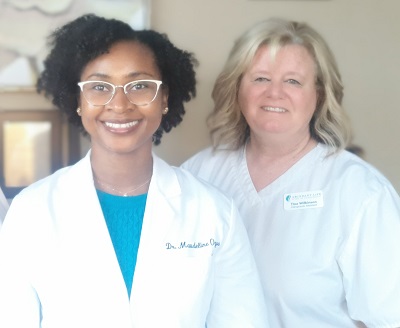 TOP CENTER: Dr. Maudeline Ogoo graduated from Georgia State University with a Bachelor's Degree in Exercise Science and Kinesiology. Following her undergraduate degree she enrolled at Sherman College of Chiropractic in Spartanburg, South Carolina where she earned her Doctorate of Chiropractic Degree. Dr. Ogoo is licensed by the National Board of Chiropractic Examiners in Indiana and Georgia. In 2017, I was blessed to be an Associate Doctor with a highly prominent chiropractic clinic in Anderson, Indiana. My experiences have given me a wonderful opportunity to learn to care for a wide variety of ailments from which my patients may suffer. Restoring health through natural chiropractic care is my mission, allowing my patients to live their lives to the fullest. Outside of practice, I have many hobbies and interests. I enjoy spending time with friends and family. I love being active outdoors and often go hiking, tubing and camping.  Traveling, exploring and learning about different places and cultures are also a passion of mine.
TOP LEFT: Melissa Hiday has lived in New Castle for 33 years and love my community! My husband Todd and I are active in our church and love spending time with our kids, Andrew and Shannon, and our dogs Misha and Maisie. I am a graduate of Ball State University with a degree in Health Science.  I love reading, water aerobics, cooking, and spending time outdoors. I love being a part of the Abundant Life Clinic staff and how we take a comprehensive approach to chiropractic health. I am so happy to be a part of all the successes in our patients' health, hearing how much better they feel, and how excited they are to share their improvements with their friends and family.
TOP RIGHT: Tina Wilkinson has lived most of my life in New Castle with my husband Bonner and daughters Ashley and Nicole. I love to travel and spend time outside, swimming and going to the beach. I love being Dr. Ogoo's assistant and working in the PT room with our patients. I love our patients and how they share their success stories with me and one another. Hearing about their progress and how their lives are improving brings me a lot of joy.
.
---